Putting an end to the long hours culture in the global film & TV industry.
On 4 November 2021, UNI Global Union – media, entertainment & arts (UNI MEI) held a global gathering of its affiliated unions to build an international approach to addressing the challenges to safe working hours and conditions in the film and television industry.
The webinar presented the results of an online survey among 28 affiliate unions from 22 countries. The survey gathered data on collective agreements, working hours and terms and conditions.
The survey and the testimony from union leaders during the webinar highlighted the key aspects of a global longs hours culture that make working in the film and TV industry, unfair, unequal, unsafe and unsustainable for many workers. Too often, crews are required to work more than 50-hours per week. Recurrent overtime, insufficient rest, the extensive use of weekend work and the disrespect of basic safety requirements are global trends of an industry that is dominated by multi-billion-dollars-multinational companies, and national gatekeepers.
"I've been on a lot of sets with insane schedules. The burnout is real, and it takes a massive toll on the crew"
"I have been so tired on that show that I cannot get out of the car when I arrive at work and feel like vomiting from tiredness. Working 15-hour days on set"
"I fell asleep whilst driving at the end of a seven-day week. Thankfully, I didn't injure anyone else, but I suffered minor injuries myself"
"I have done overtime everyday with back-to-back weekends, Saturdays, and Sundays. I haven't been to the movies with my kids in a long time"
80% working more than 12 hours a day. It forces some people to sleep in their car to avoid car crashes.
59% of respondents say that weekend work is a common and regular practice. It eliminates time for family, health, and rest.
Film & TV workers in most countries work average 40 to 50 hours per week, even more than 50 hours considering prep and wrap time.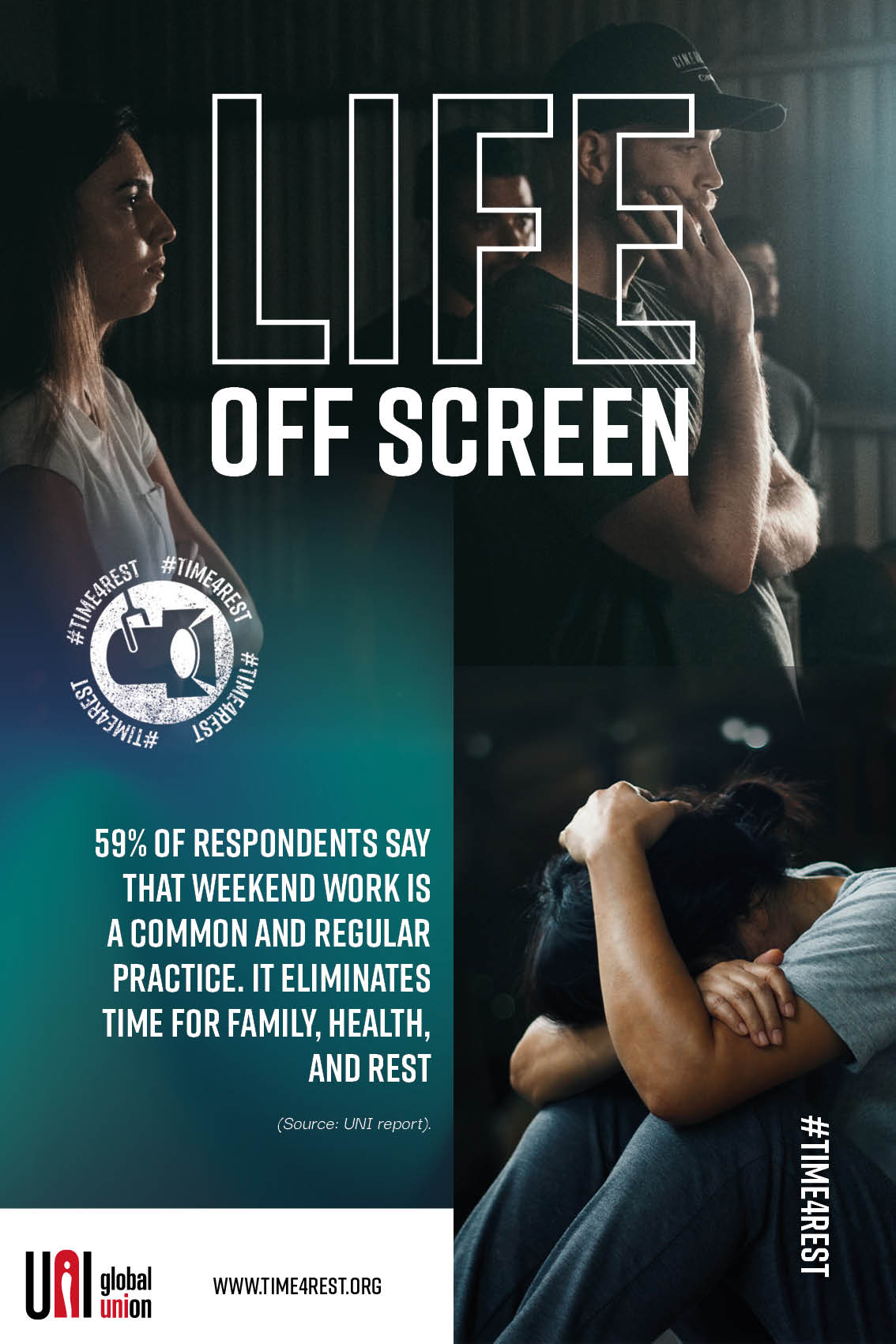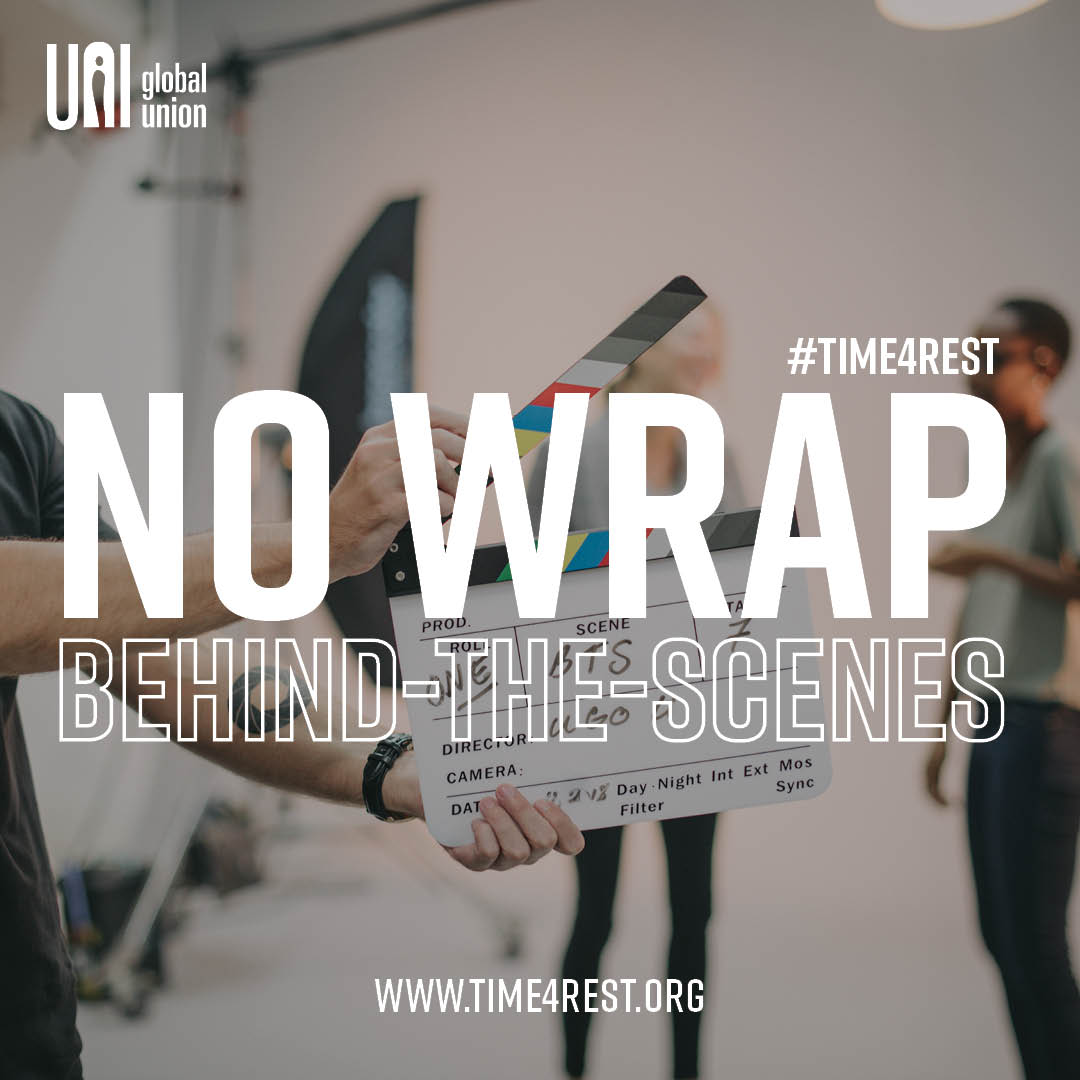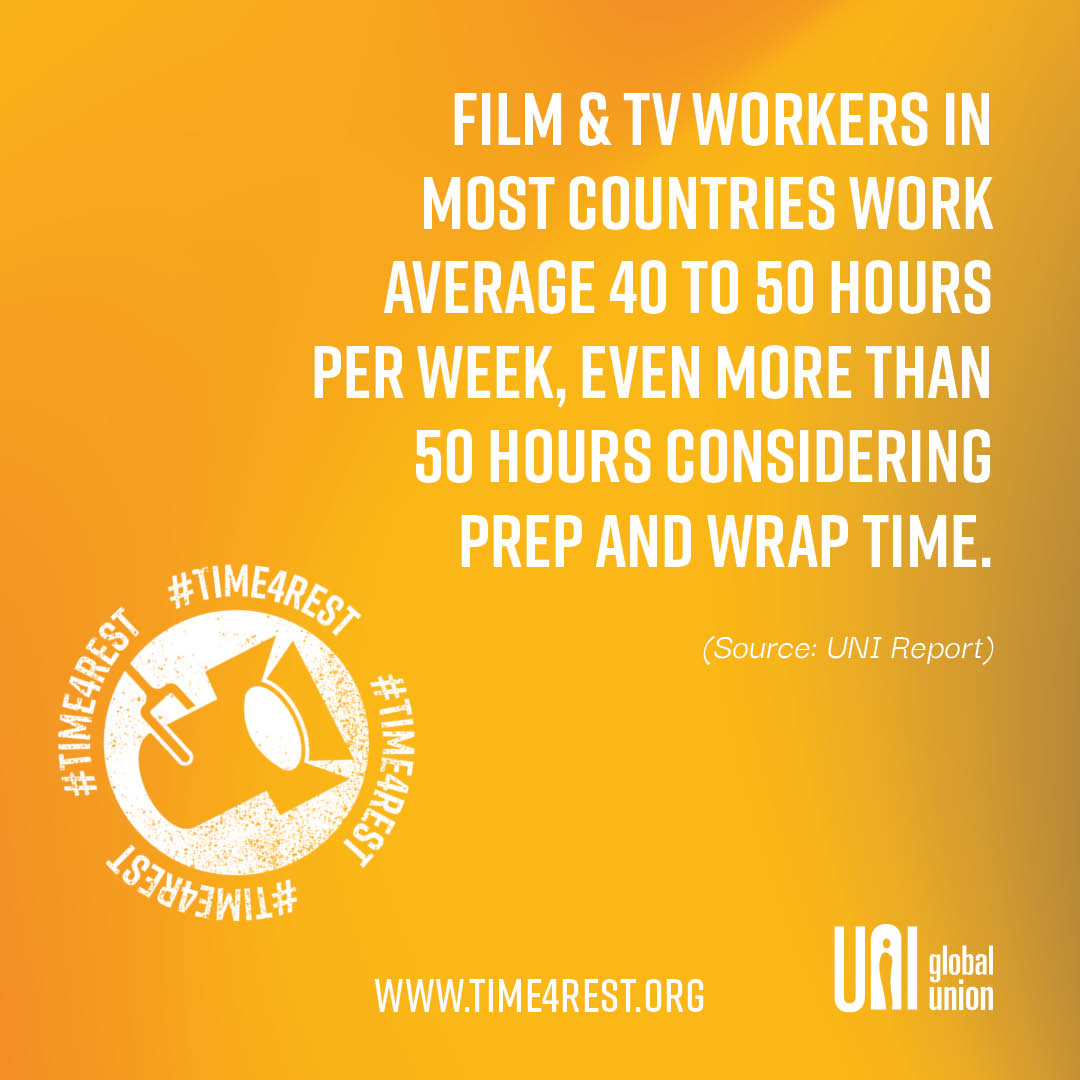 We are a global union representing more than 20 million workers in the services sectors in 150 countries. UNI Global Union builds union power to improve workers' lives everywhere. As a global union federation with affiliates in 150 countries, we use our collective strength to expand collective bargaining, advance social and economic justice, hold corporations accountable and transform an unfair global economy.
UNI Media, Entertainment & Arts unites more than 140 unions and guilds in over 65 countries to raise standards and enforce rights for creatives, technicians and auxiliary workers. Together, unions from across the world take on pressing problems such as low pay, long hours and unsafe working conditions, and campaign for freedom of expression and association, equality, diversity and a just digital transformation. For workers behind the scenes, we build collective power on a global scale.
UNI Global Union, 8-10 Ave Reverdil, 1260 Nyon, Switzerland.
© UNI Global Union 2022.
Tel: +41 22 365 21 00